There are so many bike computers on the market (and new options launching every year) that it is difficult for even a bike shop nerd like myself to keep up. Every day I have a customer coming in and asking me about some new device that I've never heard of before.
In fact, there are so many new models being launched that I have actually started only following up on the devices that survive the market for more than 18 months. There are two main reasons for this:
Cycling is a brutal sport. Throw the devices in the cold, in the rain, at high altitudes, on fast downhill descents and you will pretty quickly discover that they were never designed for the realities of our sport. By the time the company pays to ruggedize their model, they've lost their profitability and we never hear from them again.
It is easy to make something look good in ads. It is a lot harder to deliver those same results in real life. So many enterprising "sharks," think that they can bluster into the cycling industry with some new gadget. What they don't realize is that we cyclists are a very data driven bunch. We'll take your computer and benchmark against the one we've been using for 10 years. And then we will attach 5 more computers to our bike and compare the results against each other, graph it, find the p-value, and then repeat the experiment with 2-3 friends.
Because of this, you won't find me fawning over new tech like most blogs. I want something that works in the real world. a device that we can put through the paces.
You see, next to my padded cycling shorts, my computer is my absolute favorite toy. And I hate it when my toys lie to me. I love seeing how far I've ridden, and checking my max speed.
5 Simple Ways To Use Data Will Boost Your Performance
It's just like driving a car; over rev it, and it blows. Overheat it, and it blows. Don't change the oil and.. yeah, you know what happens.
Learning how to listen to your body is critical to getting the most out of this sport. And, generally, we are pretty good about that.
But there are a lot of instances where our judgment can get clouded. Like on the last 10 miles of our ride when we are bonked out of our mind. Or during the start of a race when the adrenaline has us feeling invincible.
Additionally, having instant, hard-data feedback lets us establish a biofeedback loop. From there we can better differentiate exactly how much effort we are expending and become a more efficient rider.
Here are some key data points that I watch
Waking Resting Heart Rate
Mileage Ridden Every Day
I chart out my distance and average speed on my calendar and do my best to crush those numbers on the next ride.
Want more motivation? A bicycle computer is essential. You create little games for yourself: "I want to keep the speed over 15 miles per hour" or "I want to ride 30 miles".
These little targets can work wonders for motivating you to push harder.
But, beyond that, computers also make for great bragging rights. So many of them integrate with Strava for instant sharing, but even old school riders can allow you to upload your stats online… or you can always just snap a photo of the screen and upload it to Instagram.  (I've got to have at least 1 picture of hitting the 1,000-mile mark each year)
Plus, it can sometimes diagnose when you are training too hard. Have a slow day? Maybe you need to hydrate better. Or get more sleep. Keeping track of your performance is an ideal way of tracking what your body is doing.
Basically, you can spend as much or little as you want.  I once picked up a colorful 5-pack for $10 on eBay.  They lasted about 4 months, but, they were fun and my little brother loved having one for his bicycle.
In my opinion, each one that I have chosen to review on this page is designed to laugh. No cheap Chinese crap (you know what I'm talking about!).
After all, you really don't want to hit the 500-mile mark on your yearly goal and have to start over with a new computer.
ProTip: How To Install Your Bike Speedometer
Installing one is almost easier than airing up your tires.  But, just to make sure you don't have any problems, here is a great video that explains how to do it.

 My Method:
Step #1 Install the sensor by the wheel magnet. Turn the wheel a few times to make sure the speedometer picks it up.
Step #2 Run the cord up to the brake line, securing with zip ties as you go.
Step #3 Wrap excess cord around the brake line (typically about 40 loops or so)
Step #4 Zip Tie it to the Handlebar
Step #5 Program it and slip it in place.
The Cheapest Bike Computers
Top Pick: The Sigma BC 5.12
For the last few years, I've reviewed the BC 509 in this spot.  However, with the release of the BC 5.12, I'm suggesting you upgrade.
The BC5.12 is everything that you want in a "cheap"  model.
No frills.
Just durability.
I've seen Sigma's that are 10 years old. Their owner's get mad because they just stop working. And then you put a new battery in it for them and don't see 'em for another half-decade.
I think the best selling point is the sealed, waterproof design.  So often cheap models either work and are not waterproof. Or they are waterproof but don't work very well. Sigma is that rare intersection of not only being waterproof but of being super reliable.
Whether you are commuting, or burning calories, this model is super-simple to install and easy to use.  The only thing I could wish it had was average speed.
This is a wired model, so after you attach the sensor mount by the wheel, you will want to wrap the excess cord around your front brake cable to keep it out of the way before mounting the handlebar mount.
Frankly, this little guy is hard to beat, and is a perfect choice for our beginner cyclist. 
>>Check Out Prices For This Sigma On Amazon
Second Pick: The Cateye Velo 9
The Cateye Velo9 is such an affordable deal, that it is amazing that they even make other computers.  This one has got to be one of the neatest ones on the market, with pretty much every feature that you might want.
Now it, too, is wired, but we survived for decades with wired computers, so that's no biggie.  I also like the new Cateye mount — it makes it easy to get a firm attachment pretty much anywhere you want.
When it comes to features, the Velo 9 has all of the basic features that you'll appreciate on the Sigma, and then some.  You get that average speed feature that I love so much, as well as a pace arrow to show you how fast or slow you are going compared to your average.  I also enjoy the max speed so at the end of the ride you can show your buddies just how insanely fast you were going down that hill.
The thing I hate about this one is that it calculates a "Carbon Offset" to show you how much you've helped the environment by riding.  For some reason, I find that feature too comical to be taken seriously.
But it has all of the other measurements that you'd want.
The single button scroll-through is one of the nicest features.  When you are pedaling, you can easily scroll through the features while hardly taking your eyes off of the road.  Plus, those large numbers make it easy to check your speed at just a glance.
Oh, and with the clock feature, you can make sure that you are able to get home in time.
>>Check Out The Velo 9 Pricing On Amazon
Best Mountain Bike Computers
[table "CheapBikeComputers" not found /]
My Top Pick: The Cateye Strada Wireless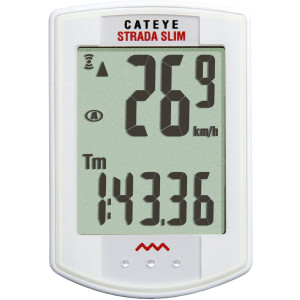 The Cateye Strada is one of the sleekest bicycle speedometers out there. I'm listing it in the mountain bike category, but it will work — and look good on — any bicycle.   Frankly, I think it offers the best all-around value out of any of its competitors.
It is an ideal one to choose for urban cycling as well.
The Strada mounts easily on any bicycle, and the lack of cords or wires means that you aren't going to be catching any cords on underbrush as you pummel the trails.
Big Numbers – This one has the largest speedometer read out of any in its class.  No matter how fast or crazy the trail gets, you can check your stats with just a glance.
One-Touch Scrolling – All you have to touch the bottom of the screen and it scrolls through each function.  This makes it easy to take one hand off of the handlebar and quickly check your trip distance or average speed.
Pace Indicator – One really neat indicator is the pace arrow which shows you whether you are above or below the average speed. We all want to keep that arrow pointing up, and trying to keep up soon becomes an incredible workout.
>>Click To See The Strada Price
The Durable Corded (Cheaper) Mountain Bike Speedometer
The Cateye Enduro is another one of my favorite off-road computers. It costs significantly less than the Strada wireless but has almost all of the features of the Strada (instead of a second trip counter, it has a carbon offset counter.
I say "mountain bike" you say "rugged". We all know that the off-road can be unforgiving, but we can't all afford the neat gizmos everyone recommends for withstanding the off-road lifestyle.  Most of us have a whole stockpile of cheap, broken computers that lasted 5 or 6 rides before their spectacular end.
The Enduro is a nice break from the other cheap ones there. This one is rugged and ready to take a thrashing. It has a super-thick cord and a strong case. It's a favorite among commuters and mountain bikers alike because of its tough features.
The only reason it costs less is that it is wired instead of wireless. You aren't giving up any quality.
As with the Strada, this model uses one-touch scrolling to check your stats.  I think the Strada may be just a hair easier to scroll through since it takes a lighter touch to scroll, but I never really have any problem scrolling through the options on the Enduro.
And, it just installs with zip ties, making installation really easy.
>>Click To See The Enduro on Amazon
Best Computers For Road Cyclists
 The Strada Double Wireless
Now, in all honesty, the Enduro or the Strada wireless that I reviewed above will measure mileage perfectly on a road bike.
However, roadies are a different sort.  You probably want a little more information about your workout, and you are interested in picking up one that is designed to 'go the distance'.
If that sounds like you, the Strada Double is an excellent setup.  The key advantage of the double wireless is that you get cadence with your computer. Cadence — the ability to track your pedal strokes — is very important for ensuring that you do not over-strain your knees. Keeping a cadence above 90 helps you get the most power from your legs, without overtaxing your knees or tiring as easily.
This one also has those other major features you want, like average speed, trip distance, and max speed.  The latest version of the double wireless also offers a heart rate monitor, making it one of the only speed / cadence / heart rate computers on the market for the price.
Frankly, this has been my go-to for years, and it only gets better with every redesign that Cateye does.
>>Click To See The Strada Digital Wireless On Amazon
Cateye Micro Wireless
Frankly, the Strada is such an excellent model, that I don't see much point in listing a second road bike computer.  However, my readers want options, so I'll go ahead and pull out another option.
And that would be the Micro Wireless.
This one does everything a roadie could want — except heart rate and cadence.
One of the neat things it includes is a stopwatch that runs in auto mode.  Basically, the stopwatch only runs when the wheel is turning.  This is great so that you can see how long you have been actually "working out" and it doesn't count any breaks that you take.
The other really neat thing is that you can customize what appears on the front screen so that you can see more numbers — and the ones that are most important to you — while you are riding.
It's a solid unit, and more affordable. It just doesn't have all of the cool options that I love with the Strada.
Maybe I'm spoiled.
>> Click For The Micro Wireless On Amazon
Best Computer/Heart Rate Monitor Combo For Triathletes
Any of the road bicycle computers that I reviewed above would work well for triathlons.  I especially like the Strada Double Wireless for the cadence option. I find that during Triathlons it takes a lot more monitoring to keep my "engine" in check, and being able to easily watch the cadence output allows me to watch for those shifting opportunities where I might be pushing too big of a gear and wasting energy.
A GPS Watch Is Money Well-Spent.
For the triathlete, I have become more and more convinced that a GPS watch is the only choice.
For starters, it lets you track your course, distance, and elevation.  Now, they tend to be a little choppy in the water, but close enough to get data for studying.
GPS watches also really allow you to get a handle on how your training matches with your racing.  The data produced by both provides an incredible resource for honing your training techniques.
There are currently two systems out there, that I suggest Triathletes look at.
The first is the Garmin 310XT. One of the first Garmin watches designed to cater to the triathlete market, it has the huge drawback that it doesn't produce the nicest swimming graphs. But, it does measure your speed and heart rate, which is the bulk of what you need to know.
At 1/3 of the price of the 910XT, I recommend this watch for most triathletes. I've also had a lot of friends who have used this watch, and for what it offers, every single one of them would buy it again.
Click Here To See The Garmin310XT on Amazon
In comparison, the Garmin 910XT is everything that the 310Xt fell short on. It works well in water. It can read the cadence meter on your bicycle (if using ANT+ technology — you can purchase one if necessary). It also is sleeker and delivers more of the features you need for training such as measuring interval workouts and lap swims.
Click Here To See The Garmin910XT on Amazon
The Best Bike Computers With GPS
Top Pick: The Garmin Edge 810 Cycling GPS With Cadence and Heart Rate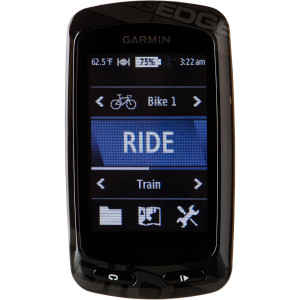 Those of you who have visited this site over the past two years have noticed that I really like the Garmin Edge 500 and 510 series.  I just didn't feel that the new devices offered that much more than you could get out of strapping your smartphone to your handlebars.
I can finally say that is changing. Garmin has gotten their cycling caps set on straight and rolled out a device that is actually designed to enhance the training quality, safety and social aspects of your riding. They tried to do that with the 800 model, and I just didn't feel like it was that much better a unit than the 500 or 510.
The 810 is different.
Now, I'm not a big fan of the touch screens while you are riding, but the crisp, clear graphics and easy navigation of the 810 are quite workable even while dodging tractors on the curvy farm roads that I ride. The screen even works great when wearing riding gloves — something you don't get with your smartphone.
Love it or hate it, this device connects automatically to Garmin Connect and updates your rides wirelessly. This makes keeping up with your fellow riders a cinch. Strava has rolled out an automatic syncing option so that it can transfer your workouts from Garmin Connect to Strava (which is what more of us use, anyhow). It's not the cleanest system, but once you get it set up, it is pretty hands-off. Just plug your computer in to charge after each ride and it will do the rest of the syncing by itself.
What really sold me on the 810 was the maps. I love exploring new places on my bikes, and thanks to this sweet guide by dcrainmaker, it is possible to get a lot of free maps on here. In addition, you can download maps from Garmin Connect ($$) and plot new routes.
I also like the LiveTrack feature. It makes it easy for the wife to watch me pedal from her phone and on the rare occasion when I have more than two flats on a ride, it makes it easy to have her come pick me up. Peace of mind for everyone.
The downside is that — like most Garmin units — the user interface isn't the best. You can plan on spending a couple of hours and a handful of rides to get it customized to your taste.
Small Size – Most GPS computers are freaking huge.  This one gives you a big enough screen to clearly read your metrics but is small enough to not attract too much attention. (and much smaller than a cell phone)
Quick Satellite Tracking – Some of the Garmin devices (like the Edge 200) seem to need more time to locate a satellite. This one picks up the satellite right away so you can get riding with the pals — not be the dweeb that is coasting along, waiting for his computer to activate.
Measures Speed – This is probably the most critical measurement and the one that even our most basic models will measure.  This one just uses GPS to measure speed and distance much more accurately. Just make sure to turn it off before you get back in the car (The GPS can keep running while you drive and screw up your metrics).  Those metrics can then be uploaded to compete and compare with other riders online
Measures Cadence – (Uses ANT+ Sensor) Cadence, or how many pedal revolutions your feet make every minute, is one of the most important metrics.  Granted, as you get used to riding, you will likely get a natural rhythm to your pedaling.  However, on training rides, I always focus on my cadence and my heart rate.  Training to those two metrics can give you a pretty incredible workout.
Measures Climb – Not every ride is equal.  The real difference is in the climb. Knowing how much you climbed will help you have a much better assessment as to just how hard you were working. This computer uses a built-in barometer to measure climbs.
Measures Power (quarq, SRM, ibike and Powertap) – Measuring wattage is the "holy grail" of cycling metrics.  After all, it's all about how much power you can put out. The Edge 810 can read power wattage outputs from all of the ANT compatible units on the market. The cheapest power meter is going to run at least $400 extra.
>>Click To See The Garmin GPS Edge 810 on Amazon
Best Value GPS Computer: The Timex Cycle Trainer 2.0
Timex has been nipping at the heels of Garmin for years.  And they've made incredible progress through the years.
The Timex 2.0 is one of the top GPS computers on the market — and it sells for nearly half the price of Garmin's units.
With this Timex, you get 5 screens at once, so you can access all of the data you want — at a glance.  There are a few major differences, however:
No Altitude – I know this measurement is incredibly important to me, and you probably want to consider it as well.  This one does not have the required barometer for altitude readings.
Training Peaks Upload – Training Peaks is one of the most popular online communities.  There is a monthly membership fee to get access to all of the features, but it is a great place to post your stats and compare with other riders. However, it is much less active than communities like Strava or MapMyRide. And the files this unit creates are not compatible with Strava. There are a few sites out there that offer to help you change your data into .TCX format, so there is a workaround for as long as those sites stay active.
Cadence and Power Sensors Optional – This Computer can recognize ANT+ sensors, so if your bicycle has one mounted, this computer can read it.  You will need to purchase the ANT sensor separately to use this computer to measure cadence and power.
>>Click For The Timex 2.0 On Amazon
Let's Talk About Workout Apps
No current speedometer article would be accurate without having a discussion of the new tracking apps that are on the market.
MapyMyRide – This was the first one I tried. I was really excited about the feature that was supposed to let my loved ones track me while I ride. For whatever reason, that feature never worked. And so, I canceled after a month of trying to use it. It also was clunky and hard to navigate. Of course, I didn't get any money back, so chalk it up to $39 of experience.
Strava – I had some friends using it, and I've gotten 3 other friends hooked on it. It is so easy to use. You poke whether you are running or cycling and then it tracks your course on a map and records your speed, distance estimate calories, and the amount of feet climbed. It also lets you post it with a picture from your ride and has easy options for sharing with social media. Most of my friends use it, so it is fun scrolling through and commenting or giving "kudos" on their workouts. And all of that is for free. There is a premium feature that lets you set goals and see how well you did throughout the workout. My only complaint is the battery usage. On the century I did last year, the app burned out
Wahoo – An iphone app and physical speedometer, I haven't used this one, yet. Does someone want to hit that little chat box in the corner of my site and tell me about their experience with it?
More of my Accessory Reviews:
Top Image Above Supplied By FreeDigitalPhotos.net