Finding the best, most comfortable,  a pair of cycling shorts is absolutely critical to your cycling career.
Here's the thing, bicycles do not have comfortable bike seats, and our rear ends are not used to sitting on them.  Sure, you can buy bike seats with more padding, but, at the end of the day, you are likely going to need a top-notch pair of bike shorts.
Padded bike shorts have the added advantage of fitting closely to your butt.  This snug fit lets them move with your body as you pedal and helps to prevent chafing. It also holds the padding tightly on where you need it most, cushioning and protecting your bottom.
Frankly, I don't know that I could talk myself into riding my bike for any length of distance if I didn't have a good pair of cycling britches.
There are a lot of different bike shorts available on the market.  Unfortunately, a lot of these are cheap Chinese imports that don't hold up well and may actually cause more chafing.
To avoid getting a bad pair, I recommend sticking with name brands.
In order to help with your search, I have compiled the top 5 cycling shorts for both men and women.
Just click on the correct link below to go to your section:
How to Choose A Pair Of Bike Shorts
The Best Cycling Shorts For Men
#1 – Best Value: Pearl iZUMi Attack
This is their mid-level length.  Actually, it's their short that is just one-step above the entry level short.
So why am I ranking it so highly?
The fact of the matter is that very few of us are going to actually put many miles into our britches.  So if you are riding 100 miles or less a week, this is all  you will ever need. I mean, sure, the PRO line shorts are more comfortable.
But our average rider doesn't want to drop $100+ on an article of clothing.
Because it is their mid-range short, you get a nicer pad than the entry-level, with significantly denser foam that rides well next to the body and gives you the protection and comfort you need. While not as form-fitting as the higher-level options, it does a good job moving with your body and preventing chafing.
I've ridden a couple of centuries (100 mile rides) in this short when I was first getting started. And they do a great job until about the 70-mile point.  The last 30 miles I find myself adjusting them some and wishing for something more comfortable.
But on road rides under 60 miles — or mountain bike rides under 4 hours — they are all I ever need.
Because these offer so much value for their price, I'm putting them in first place.
#2 – Best Bib Shorts: Pearl iZUMi Men's Elite Inrcool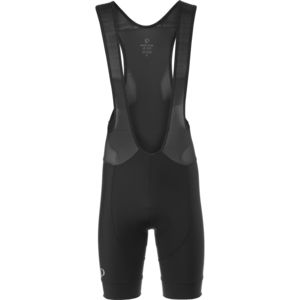 The new Inrcool offers a new, upgraded skin that is quite breathable and is designed to be cooler than the earlier models.
The trick with making these thinner, more breathable, and cooler is to also make them durable enough that they don't rip out on your first ride.  (I've seen some companies' early inventions in "cool wear" end in total disasters.)
Pearl does a good job in creating a cooler short, and you will immediately notice the difference.  In fact, it is so breathable that it leaves you feeling a little naked.  Don't worry — nobody can see anything.
New features aside, my favorite aspect of the Elite level short is how well the pad is created.  There is a lot of intricate care put into these pads so that they can bend and mold to the body, providing the padding you need without the chafing that you don't.  The pads are durable enough to provide comfort over hundreds of miles of cycling.
And then, the fact that these are offered in a bib model just seals the deal.  For most people under 6′ 2″, the bibs are the way to go (too tall, and it can actually create unnatural pressure on your shoulders).
The difference between a pair of Attacks and the Elite Inrcool are night and day.  And these are worth the money to upgrade.
A better short? Yes, in every way.
Click to Check Prices On The Elite Inrcool Bibs
#3 – Second Best: Gore Men's Oxygen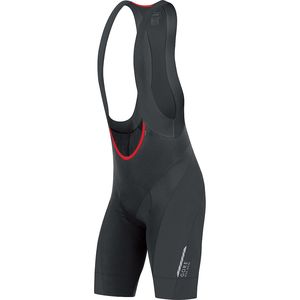 I have a pair of these Gore bibs that I wear all the stinking time.  I love how breezy they are, and they are some of the most comfortable pair I've worn.  Right up there with the more expensive Inrcool.
The reason I rank them below the Inrcools (and the Attacks), is that I have seen some of these have problems with ripping out on the users.  Not cool. Mine have never had a problem, and I think they have mostly fixed it.  But they've had some bad batches in their time.
In addition, the pad is not as spectacular as the other pad. It is plenty enough padding to get the job done — even on a century ride — but it doesn't blow me away like the Inrcool pad does.
However, we're looking at a Bib short that is at least as comfortable as the other options (if not more so), and for only a few dollars more.  It really is a no-brainer to go for these.
I don't know what more I can say, but if you have the extra money to get these, do.  They are worth every penny and you will be a raving fan.  Just read the reviews on Amazon.(Oh, and my pair has close to 1,000 miles in them, despite their thinness…)
Click To Check Out The Gore Oxygen
#4 – Best Beginners Bike Short: Pearl iZUMi Quest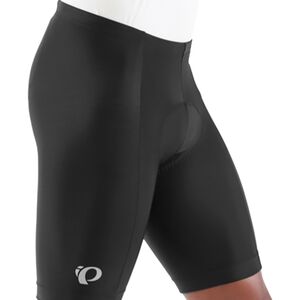 It doesn't get much more basic than the Quest.  You get the durability of much higher-quality options, ensuring that these will last as long as your cycling career. And while the pad is nothing to write home about, you could get through your first century on them.
Basically, it uses an open-cell foam pad that is a lot softer than the Attacks use.  So, over the course of a ride, it tends to absorb more sweat and become less protective as the ride progresses.
That said, for those of you grabbing an hour-long spin class, or hitting up the Saturday-morning pedal mania, these will work quite nicely.
I realize that new riders are hesitant to spend a lot on this sport until they know whether they are going to enjoy it.  However, I have yet to find a more affordable pair that can either last as long as these, or provide the same level of protection and padding.
So for the best, cheapest bike shorts that won't leave you raw, grab a pair of these Quests.
Click To See The Money-Saving Quests
#5 – Best Value Urban Commuting Shorts: Zoic Men's Black Market Bike Shorts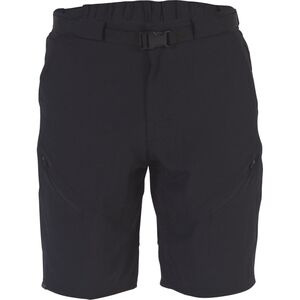 Looking for a comfy pair of shorts to pedal around town in?   Now, you can always pull a pair of cargo pants on over your regular, padded riding gear.  I've done that many times myself, and it gives you enough modest that you aren't making everyone in the coffee shop feel uncomfortable, while still allowing you the comfort of a padded short.
The Zoic is a two-in-one. You get a snazzy, black outer short with specially designed pockets that work well for holding your keys, wallet and cell phone — even when pedaling.
But, what no one sees is the comfy, padded liner that protects your butt while you cruise around town. The inner padding can be removed for washing  — or so you can wear these cool shorts without the padding.
Unlike the more serious padded options that we have already discussed, these are not going to offer the same all-day protection, but then, they are also more comfortable when walking around town.
It's the perfect balance between riding and living.

Click To Check Out The Zoic Plaid Shorts
The Best Cycling Shorts For Women
#1 The Best Ladies' Short On The Market – The Pearl iZUMi Elite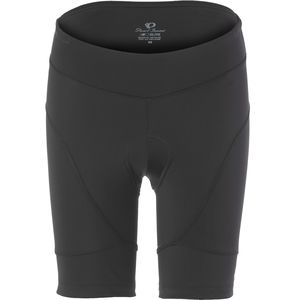 Ok, so I'm not going to beat around the bush.  You ladies' want comfort.  After all, if you are going to put something on your butt that is going to make it look bigger than it already is, then it had better do it's job.
The Elite is everything you could want in a short.  To begin with, you get the top-notch pad, with the dense foam that can provide cushy comfort no matter how far you pedal.
Then you have the special, anatomically-fit panels that are cut and sewn together to support specific muscle groups.  This actually helps with blood flow and helps your legs work more efficiently.  It's pretty incredible.
If that is not enough, these are created to be cooler than any other option on the market.  With their special reflective coating and wicking technology, these shorts are designed to help cool the surface temperature by up to 35 degrees.
This helps the body cool more efficiently, and allows you body to use less blood to help cool, and more blood to help with stuff like pedaling faster.
Bottom line, if you want shorts that help you ride better, these are the ones to get.
Click To See The Elite Inrcool
#2 – Pearl iZUMi Symphony Short
These are pretty much exactly the same as the Elite reviewed above.  The same cooling fabric and 3D foam that makes the Elite's so awesome are included in these.
What makes the Symphony neat is their 6″ inseam (compared to the 8″ inseam on the Elites).  This keeps your riding tan lines from clashing with the tanlines from your other clothing.
Plus, they have a couple of cool colors to choose from.
Am I cheating by basically including the same pair on my top-5 list?  Nah.  They are truly that awesome.
#3 – Pearl iZUMi Symphony Short
I love the Sugar short.  It was initially invented to fill the niche market of spin class goers.  For those fat-burners who wanted a more padding with a sleek style, this short is one of the best ones to consider.
However, it quickly grabbed market share on the open road.  The 3d padding is often only found in better-quality shorts and is quickly collected a huge fan following.
On top of that, the sugar shorts comes in a lot of styles.
So, whether you want to get a pair for spin class, or go ride your first century, these are great shorts to go with. The best part?  You will always have style and to spare.
Click Here To See All Of The Symphony Short Styles On Amazon
#4 – The Pearl Izumi Skort
Modeled after the popular tennis and running short/skirt combos, these "skorts" are a fun option for ladies who want the comfort of a padded short without flashing their hiney at all passersby.
Skorts add a huge amount of comfort and style to cycling. It's a pity more people don't go for them.
And this is the brand which is one of my absolute favorites. I love their stuff so much that I just wear it even when I'm not working out. It's that stylish. With this skort you are not only getting the best in cycling fashion, you are also getting the comfort of a padded liner.
While the padding isn't the same quality as the Sugar short, it is a high-enough quality short that you will have no problem doing 50+ miles on them.
Great for riding around town, or all-day pedaling.  No matter how far you pedal, you will have plenty of style.
Click To See The Cycling Skort Option On Amazon
#5 – The Pearl iZUMi Women's Canyon Short
For those of you who want a looser option that still offers great padding, the Canyon is a great one to go with.
I really like how well these shorts are shaped so that you don't feel like you are flashing everybody as you pedal.  At the same time, they are extremely free and make for comfortable walking (or riding). You can hop off the bike and peruse the local farmers market or thrift shop and no one will have any idea that you are wearing riding gear.
What sets these shorts apart from many other urban and mountain biking options is that they have the 3d chamois padding that actually protects your rear-end and gives you the comfort you need.
Go for a morning ride.  Stop by the coffee shop and grocery store.  And arrive home feeling refreshed and ready to attack the rest of your day.
Cycling Bibs Vs. Regular Shorts
This is an age-old debate, if ever there was one.
I never really saw the advantage of the bib until I tried them out for one ride.  And I was immediately hooked.
The thing with bibs is that they keep the shorts firmly in place so that they don't slide or chafe.
However, for me, the biggest performance advantage was that they don't use tight elastic around the waist, so the my stomach could breathe better.  Now, I'm a skinny guy. So I know that people who actually have some belly, have got to really appreciate this benefit.
Because my stomach was not cramping, I suddenly could ride faster and farther with less discomfort and greater effort.
The downside is that bibs cost more.  So if you need to start with shorts for money reasons, go right ahead.  Millions of cyclists never even try bibs.  But once you do, you are going to be impressed.