The flurries started coming down yesterday.  It's not even Thanksgiving yet and I already had a nice frosty layer of ice on everything.
And now these flurries.
It isn't right.
So, I wandered down to the basement and dug out my trainer.  You see, the winds may howl, but I've got to stay in shape.  If I don't, I'll be riding by my lonesome self in April as the whole bike club gets up and out-pedals me. (Fear is a powerful motivator)
Not to mention I'm about to consume a year's worth of calories over the next 6 weeks if holidays.
Calculate how many calories you can burn riding indoors.
Staying At The Top Of Your Game
It is important to take a little bit of a break.  Wintertime is a good time to do that.  So if you only ride 3 hours a week instead of 6, that's fine.  Your body can use this lighter workout as a time to recharge and get ready for the season ahead.
Plus, you can work in some cross training with swimming, weight lifting and yoga to maintain an optimally flexible body.
But at the core of everything, you need to keep your legs  and energy processing systems in top cycling shape.  If you don't, you will rapidly lose all of the strength that you have built up over the past summer and will be left with some nice, unresponsive noodles on the first day of spring.
Wind Vs. Magnetic vs Fluid Trainers?
You have 3 major types of trainers to choose from.
Which one is the best?  Which is the most durable?  Which one is the loudest? The quietest?
Here's a quick overview.  Read this, and you'll be better informed than some bike shop employees!
Wind Trainers –  Super loud.  Put it down in the basement or out in the garage and the rest of the family is still going to complain.  The biggest downside is that I like to watch TV while I pedal.  With a wind trainer you really need to run the sound to a set of earbuds if you plan to watch TV while pedaling. Even with earbuds, the endless whirring can leave you feeling a little numb and overloaded on noise after 30 minutes.
Magnetic Trainers – An excellent, affordable choice.  These derive their resistance from magnets are much quieter than the wind resistance units.  You will still hear them, but, for the most part, you can talk over them easily.  They also offer more resistance.  Some of them come with a selector switch that lets you adjust the resistance while you ride.  Others are automatic, and will increase the resistance the faster you pedal (my preference, but cost more).
The downside with magnetic-based resistance machines is that there are so many mediocre ones.  Having worked at a bike shop, I had the pleasure of testing them.  There is nothing quite as disconcerting as a smoking, growling magnetic trainer when you are 20 minutes into your first workout with it. Because of my experiences, I insist on only purchasing magnetic trainers that offer a strong warranty. (I'm pretty 
All said I would highly recommend that beginners look at getting a magnetic trainer.  They are that perfect blend of durability and price, and it is hard to go wrong.
Fluid Trainers – Here is the cream of the crop.  A fluid trainer uses a hydraulic fluid and centrifugal bands to create a super-smooth workout.  The nice thing with fluid is that it provides adjusts responsively to your workout.  So if you want to stand up and sprint, it will automatically increase the resistance with your speed.  While magnetic units will do that to some extent, they don't adjust as quickly, and they reach their maximum power range much sooner.  Some of these fluid-based designs are used by professional cyclists and can handle over 700 watts, meaning that unless you are a freak of nature, you will never max out your trainer.  Plus they are the quietest and most durable.
What is the Most Realistic Indoor Bike Trainer?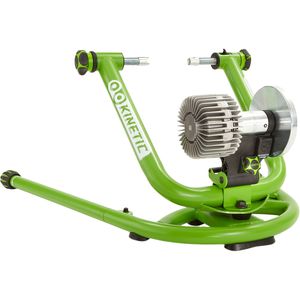 I would say the Kinetic Rock n Roll.  This is the trainer that all of us start swooning over the first time we do a Youtube search for "Bike trainers".
This trainer has been consistently updated through the years and now has the inRide sensor. As we know, "Smart" bike trainers are all the rage. Thanks to the Kinetic inRide app, you can track your workout and even use the fitness tests to measure your performance.
Kinetic makes some of the best units on the market.  They use larger, heavier flywheels than most of the competition, which gives you a very road-like feel when riding.  Plus, they have a lot more engineered in the way of cooling mechanisms to make sure that your trainer won't overheat or fail.
What sets the Rock N Roll apart is that the frame flexes while you ride.  So you sorta have to help balance your bike as you pedal.  This helps to engage your core muscles while you ride and creates really realistic sprints.  Plus, it takes the stress of your powerful pedal pushes off of your bike frame and lets the trainer absorb it.
So the Rock 'N Roll is the only one I've found that doesn't stress your bike frame, and gives you a core workout, too.  If you have the money, it is well worth the extra couple of hundred to snag this one. Plus, their unconditional lifetime warranty means that you are guaranteed a long-lasting unit — no matter how hard you pedal.
>>>Click Here To See The Rock N Roll 
Cycleops Fluid 2
Not ready to drop a lot of money on a bike trainer, but want a solid value for your money?  Then you've got to check out the Cycleops 2 Fluid.
Cycleops has been a longtime leader when it comes to manufacturing bike trainers.  They make such an incredibly durable product, that they are one of the top picks by racers everywhere.  In fact, you are hard pressed to find a pro bike rider warming up on anything but a Cycleops.
The Fluid 2 has the resistance to be able to handle well over 700 watts.  So feel free to stand up and sprint it to death.  It'll be revving for more long after you have worn yourself out.
I also find the Fluid 2 trainer's quick release system for clamping your bike in place to be one of the easiest to work with.  Slide one lever and your bike is held securely.  Flip another lever and you are ready to workout.
However, the very best thing with Cycleops is that they make it easy to take advantage of their lifetime warranty.  I have yet to help a customer file a claim where they don't just end up paying shipping. Cycleops has got to be the absolutely easiest warranty process I've ever dealt with.
The only problem is that warranty claims are so few and far between…. 'kinda a pity, considering how friendly their warranty department is.
It's a top-notch product with a company that really stands behind it.  You won't find better for the money.
Click To See The Cycleops Fluid 2
Cycleops Mag+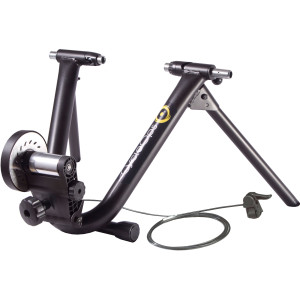 I'm going to go with Cycleops for this pick, also. Their Cycleops Mag+  is going to cost about 2x that of the mass-produced magnetic models that you most often find on Amazon and EBay.  However, this brand outlasts everything else on the market.  I've personally seen some of these be abused by riders for at least 7 years.
And that's not just winter riding.  They take these with them to races, too, so they are always getting jostled and moved.
The Mag+ requires you to adjust to the correct resistance. It has a handy little lever that clips on to your handlebar so you can adjust the resistance while you pedal.  This doesn't make it as good of a choice for sprint workouts, but then magnetic trainers aren't normally a good choice for those types of workouts, anyhow.
So if you want a trainer that you can sweat the heck out of, practice your hill climbing, build your base miles and increase your power, the Mag + is a great choice for about half the price of the Fluid 2.
This one also has all of the warranty protection of any Cycleops branded machine.
Conquer
Bestseller lists are fun.  You can assume that since so many people are buying an item, it is probably a pretty decent machine.  So let's look at  one of the bestselling bike trainers online: the Conquer Bike Exercise Stand.
This model gets a lot of positive reviews from users. It seems to offer a lot of capactiy for the average workout fiend.
I think for the casual rider, this could be a really good unit.  It is affordable and is something you could get on and use it to ramp up your heart rate without 2-3 times a week and it will last just fine.
However, I have used magnetic resistance units similar to this one, and, from experience, they don't give enough resistance for an athletic rider.  In addition, these are the ones that have burned out and ended up smelling funny by the end of a workout.
The other drawback is that you have to get off of the bike to adjust the resistance.
The bottom line is that this would be great for an average person who wants to bump up their fitness level over the winter.  But if you are already fit or are planning on putting in a lot of miles this may not be as good a choice.
Cycleops Wind
Tired of me talking about Cycleops? Too bad.  If you are really strapped for cash, then get their wind trainer.  It'll cost you a few $20 bills more than a cheap, no-name magnetic unit, but it will last way longer and probably isn't that much noisier than a really cheap magnetic unit is.
But they are noisy and I find that it tends to discourage a lot of people from using them consistently.
Click Here To See The Cycleops Wind 
Best Winter Workout DVDs?
The worst part of working out on a trainer is the boredom. So much freaking boredom, just staring at a white wall.
Because of that, I like watching a movie or something. It helps me take my mind off my agony.
However to really up your game, you should try a workout DVD. Get something about 30 minutes long and just absolutely bust your butt. I was astonished at how bushed I was at the end of those 30 minute sessions.
Something about having a coach shouting at me really pushed me to dig deeper than I normally would.
I found that by getting 2-3 videos and rotating through those throughout the week really pushed me to higher levels of fitness, and made it more exciting. I would alternate the days and do a workout video one day and then maybe just watch Netflix the next day.
The next year I felt so much more prepared.  I was actually getting compliments on my fitness levels by the other folks in the riding club.
You've still got to keep pushing yourself on some longer rides. If you can reach an hour or more 2-3 times a week, you will do a lot to maintain your fitness at a higher level without peaking yourself out too much for the longer rides in summer.
I know it is a little dated, but my top pick is the Spinervals DVD. They are enthusiastic and really motivating. Just ignore their ugly costumes. (or laugh hilariously act them).
Click Here To Price The Spinervals DVD On Amazon
Convert Your Trainer For BMX
Outside of road cyclists, probably the most dedicated group of riders are BMXers.  I have never figured it out.  I guess it comes from being a speed demon.
The challenge is finding a trainer that will work with 20″ or 24″ bike tires.
For these riders, I can suggest nothing better than the Cycleops' adapter.  This little piece screws onto any of the Cycleops trainers.  It is really easy to add this conversion and will allow you to use your trainer with recumbent bikes, kids bikes, BMX bikes and junior road bikes.
It gives a solid feel, too, so you don't have to worry about compromising strength or safety.
Click Here To See The Adapter For Cycleops 
How To Set Up Your New Indoor Workout Room For Cyclist
Trainers Vs. Rollers: The Face-off